Media Development Investment Fund has published its Portfolio Review 2022, a summary of our media development and impact investing work that supported independent media last year. Published annually, the report offers insights into the performance of our portfolio, our clients' critical journalism and information-sharing work, press freedom issues and other updates on what's happening in and around MDIF.
Read the full Portfolio Review 2022 and view a summary Portfolio Review infographic.
$17m
in new investments in 2022
$148m
assets under management
60
media companies invested in
Dedicated to building free media
Against a background of global instability caused by Russia's invasion of Ukraine, coupled with the concerning decline in press freedom and the rise of authoritarianism worldwide, for MDIF 2022 was a year of hard work driven by the collective efforts of our diverse team of 48 multinational staff members, including 60% women.
In addition to continuing work under existing funds and programs, we embarked on several new initiatives in 2022, such as Ukraine Emergency Support, a pilot equity fund for India, the Nigeria Media Innovation Program (NAMIP) and the Amplify Europe and Amplify Asia capacity building initiatives.
MDIF was able to meaningfully expand our work and impact with a series of new initiatives. A standout theme linking much of our work was its regional focus. From raising funds to launching innovation programs, localization drove our work as never before.

Harlan Mandel
MDIF Chief Executive Officer
No-strings-attached financing for media growth
In 2022, MDIF continued providing debt and equity financing to help independent media build strong, viable businesses and safeguard their editorial independence. We invested a total of 17.2 million in 18 independent media companies. Across different funds, we expanded our portfolio by welcoming eight new media businesses, while nine existing clients were assisted with follow-on financing and one media company rejoined our portfolio.
Out of the 18 companies invested in, six were in Europe, five in Asia, four in Latin America and three in Africa. We also extended operations to two new countries – Pakistan and Jordan.
Investing in diverse media
We finished 2022 with $148.2 million in total assets under management and a portfolio of 60 independent media businesses in 35 countries. Our portfolio was truly global: 30% of our clients were in Europe, 25% in Africa, another 25% in Asia, and 20% in the Americas.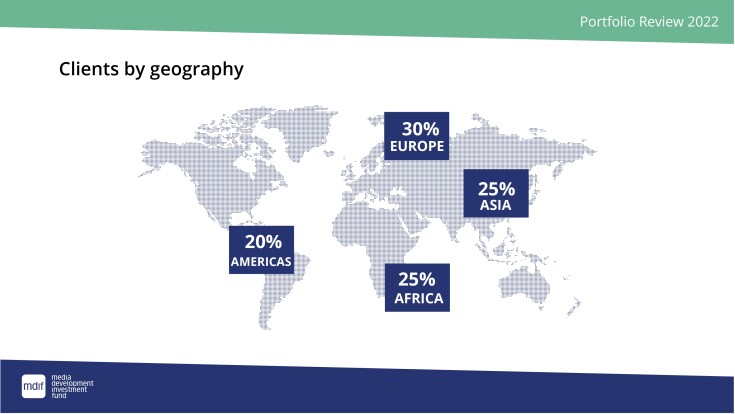 Our investments supported the work of more than 7,095 media workers, with 49% average female representation among clients' staff. Additionally, 72% of MDIF-supported media organisations were recognized with awards, with more than 109 honours and accolades received.
More than financing
In addition to investments, we provided business and management support to more than 104 companies through Media Advisory Services (MAS), our capacity-building unit, and worked with 93 partners across seven media support projects. Through these efforts, we delivered a combined total of $9.4 million in tailored technical assistance and TA grants, further reinforcing our dedication to fostering a thriving media ecosystem.
Want to know more about our portfolio?
Download the full MDIF Portfolio Review and view a summary Portfolio Review infographic.