Media Development Investment Fund has released its Impact Dashboard 2022, a comprehensive analysis of its impact results. Published annually since 2005 and built on our 25-year track record, the report takes a custom approach that is tailored to our unique mission of investing in independent media, focusing on two areas: impact of our investments on clients and our clients' impact on their societies.
Read the full Impact Dashboard 2022 and view a summary infographic. For a detailed explanation of our impact assessment approach, see the full Impact Dashboard Methodology.
331m
people reached with information by MDIF clients
184%
average reach increase after 5 years with MDIF
203%
average revenue increase after 5 years with MDIF
82%
clients say that they created impact last year
Impact on clients
MDIF invests in and supports independent media around the world to help them grow resilient, resourceful media businesses strong enough to weather crises and say no to money that would compromise their editorial independence.
While we view our investments and support as a contributor to, not the sole cause of, the growth experienced by the media we finance, a range of performance metrics show that our clients strengthen their media businesses while working with MDIF. Impact Dashboard has identified that seven out of ten increased their revenues, reach and staff from the beginning to latest year of their relationship with MDIF. After five years of working with us, clients grow their reach by 184%, revenues by 203%, and staff by 32%, on average.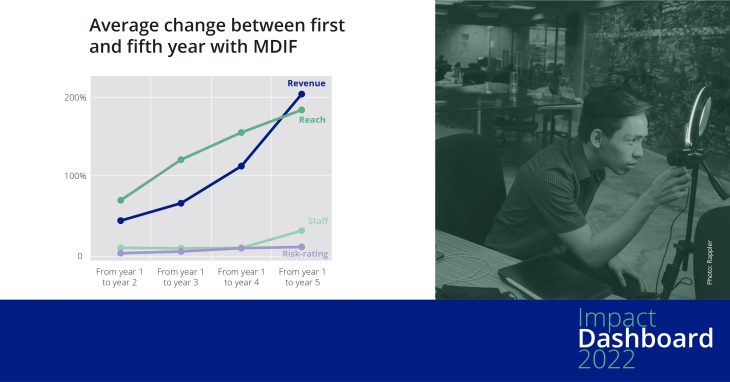 Yet the best people to speak to the quality of our support are clients themselves. The Dashboard found that a vast majority of clients see positive changes in their company because of their involvement with MDIF. When asked to evaluate our support, 100% of clients described MDIF financing and support as valuable or very valuable. 87% of clients said their company experienced changes because of financing and support from MDIF. Out of those, 100% described the changes as positive and 82% saw it as unlikely or very unlikely that those changes would have happened without the involvement of MDIF.
Impact on societies
Independent media act as a driver of change and form the foundation of a healthy information environment that can help the world deal with the challenges of our times, as envisioned by the Sustainable Development Goals. Not only are media recognised in SDG 16 as an integral part of supporting peace, justice and strong institutions – media facilitate public access to information under SDG 16.10 – but they also drive change towards all SDGs and more informed, inclusive and sustainable societies.
According to the Impact Dashboard 2022, the media we support reached as many as 331 million people with news and information last year. This figure – roughly equivalent to the population of the United States – was a record high in our 25 years of work.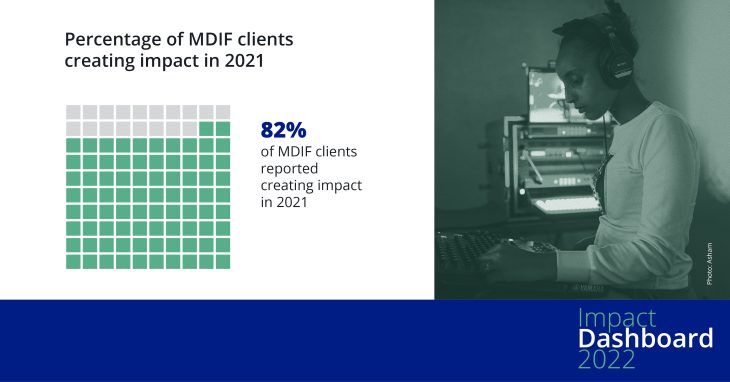 Clients' journalism and information-sharing helped bring about social change across a wide range of SDG sectors, with 82% of clients declaring that they created impact last year. From fearless investigative reporting that led to probes and charges, to powerful human-interest stories that highlighted social problems and triggered changes in people's lives, the Dashboard presents examples of stories of change mapped against the relevant SDGs.
Last but not least, the information our clients shared was of high quality. The Dashboard shows that last year, 78% of our clients won awards, a recognised measure of excellence. We counted 101 honours and accolades in 2021 and 354 in the past five years. Most notably, in a stunning recognition of her work, Maria Ressa, the CEO and co-founder of Rappler in the Philippines, was awarded the Nobel Peace Prize.
Download Impact Dashboard materials
Read the full Impact Dashboard 2021, a summary infographic or the Impact Dashboard Methodology.