Amplify Europe is pleased to introduce the winners of phase 1 of its business sustainability and innovation-support program for digital media from selected countries in Europe.
Each of the successful seven participants (two media outlets HotNews.ro and Panorama.ro joined the program as one participant) is a reliable source of information in its country, building innovative news products which explore opportunities to reach and connect with broader audiences through digital platforms and technologies, and develop new revenue generation opportunities and sustainable business models.
These participants are mission-driven organisations passionate about delivering objective and verified information and trying new approaches to local news and information:
G4media.ro – A news and analysis website which was launched 5 years ago and already ranks 20th in the top websites of 2021 in Romania, according to the Media FactBook. It covers domestic and foreign politics, economics and justice, as well as investigative journalism and focuses on daily news, exclusive stories, investigations and analysis. G4Media's mission is to defend and strengthen an independent press in Romania by informing readers fairly and independently. The outlet's investigations and articles are widely quoted by the Romanian and international media and seen as influential on policy decision-makers.
Hotnews.ro – No.1 independent digital outlet and one of the most-read breaking news websites in Romania with around 5 million unique users per month. It is one of the most credible and consistent news publications in the country. HotNews complies with high standards of journalism and combines the talent and passion of the best journalists in the country with the newest technologies. Its editorial aim is to branch from news into explainers and news features, and become a destination for more types of original content.
Mediapool.bg – One of the oldest news websites with national coverage in Bulgaria that enjoys a reputation as a reliable, objective and independent source of information that upholds high journalistic standards. Mediapool has always been in the forefront of pro-European reforms and continues to address the most important issues on the public agenda. It provides objective coverage of events, investigates corrupt practices in politics and business, and facilitates dialogue on solutions to the problems faced by the country.
Otzvuk.bg – Bulgarian regional online media outlet based in Smolyan, a mid-size town in the Rhodope Mountains, and considered to be "the voice of the region". Its mission is to be a watchdog of the public interest, to achieve more transparency in the work of local government and to fight corruption on the local level. Otzvuk.bg provides its readers with reliable and verified information about what is happening in the region, publishes journalistic investigations and gives a platform to all citizens, regardless of their point of view.
Panorama.ro – A Bucharest-based economic and business multimedia platform, one of the most ambitious content projects in the Romanian media landscape. It is successful in terms of impact, international awards and building reputation. The media outlet focuses on in-depth reporting of major trends impacting Romania and the world. It is a niche product with a concept of 'slow journalism' and longreads. With interactive and visual stories, along with infographics, it takes big topics and provides in-depth explanations by using the latest trends and tools in data visualisation.
Recorder.ro – Perhaps, the most impactful independent online media organization in Romania that has been called "a national phenomenon". Recorder documents topics of national interest and publishes video investigations that have had tremendous success. Since its launch Recorder's mission has been to become the most important independent video-journalism platform in Romania, which it has now accomplished. Recorder's documentaries and investigations receive millions of views, often become number 1 trending topics on YouTube, create public debates and put pressure on state institutions to be accountable. Recorder has one of the most popular YouTube channels with exclusive journalistic content (around 550k subscribers). It also produces the most popular Romanian news podcast, called "On the record."
Spotmedia.ro – An independent, fast-growing online platform launched in 2020 by a group of experienced journalists. In January 2023 the media outlet was ranked 13th in the News and Analysis category, with 1.5 million unique users. Spotmedia publishes mostly interviews and analysis and focuses on doing constructive journalism, especially about education, digitalisation and the environment. Spotmedia's team has created a community of more than 40 experts in a variety of fields and built over 100 partnerships with key NGOs to offer case studies and success stories that provide solutions to people's everyday problems. In 2022 Spotmedia launched a monthly podcast on how to be an active citizen. Spot Media has a compelling and well-designed website and targets a younger audience.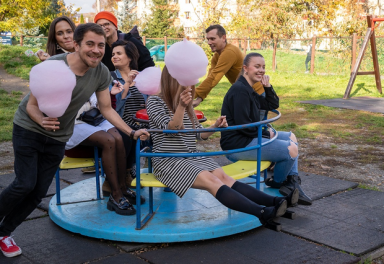 Uh.ro – A Hungarian-language local media based in Transylvania with a team of impressive young entrepreneurs with a strong media family history and passion. UH.ro's team believes in the freedom of the press and the power of local communities to produce original local content. They are considered a watchdog of a local democracy and perform a so-called public service role in the community in which they operate.
Amplify Europe winners will be awarded up to $50,000 for their project and join its two-year innovation and capacity building program, where they can take part in a range of activities, including mentorship and training, to help them increase their management capacity, build audiences and generate sustainable and diverse revenue streams.
As the media companies grow, Amplify Europe will also provide a pathway to loan and equity investment and ongoing capacity and venture support through Media Development Investment Fund and its Media Advisory Services technical assistance hub.
Phase 1 of Amplify Europe's intake is restricted to media from Bulgaria and Romania. Program support will be extended to digital media in other selected European countries in 2023.
Read more about Amplify Europe here.