MDIF CEO Harlan Mandel, our Chief Strategy Officer Patrice Schneider and our board member Catherine Gicheru all took part in panel discussions this week at the International Journalism Festival. The festival which took place in Perugia, Italy, is the biggest annual media event in Europe, where the industry's top experts come together to exchange ideas and insights on the latest trends, opportunities, and challenges in the media.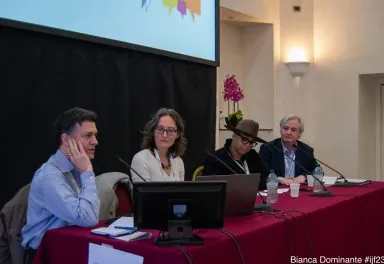 Harlan Mandel: Investing in the future of independent journalism and civic media.
Harlan Mandel participated in a stimulating discussion that explored the ways in which philanthropic funding can bolster high-quality media as a public good. The panel tackled essential questions such as, "Can financial returns and social good coexist when safeguarding an independent and robust media ecosystem? Or does this idea create unrealistic expectations of commercial viability in regions hostile to media pluralism?" Joining Harlan were Carlissia Graham, President of New Media Ventures, Elizabeth Hansen Shapiro, Co-founder and CEO of National Trust for Local News, and Vince Stehle, Executive Director of Media Impact Funders.
"Approximately 60 countries which we were financing in 2020, had a combined audience of 262 million people. 99% of them living in countries which didn't have a free press" said Harlan
"We work with companies on improving their effectiveness, which carries over to all the issues they communicate about," said Harlan.
Listen to the conversation here.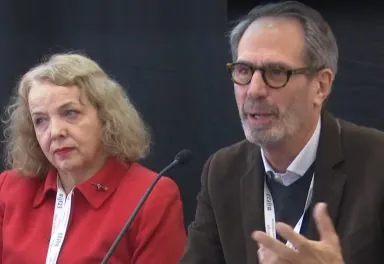 Patrice Schneider: Blended funding: a useful innovation to fund independent journalism?
MDIF Chief Strategy Officer Patrice Schneider organized and moderated a panel that explored the need for a plurality of capital that invests in the free flow of quality, independent media, a critical part of 'democracy's information infrastructure'. The session focused on sharing the lessons learned from Pluralis, a blended, multiple-stakeholder investment facility managed by MDIF that provides access to a plural capital to independent media by blending capital from European foundations, news media companies, and social investors. Patrice was joined by Adrian Arena, Director of International Human Rights at the Oak Foundation, Beata Balogova, Editor-in-Chief of SME, Kjersti Loken Stavrum, CEO of Tinius Trust, and Paul Nemitz, Principal advisor in the Directorate General for Justice and Consumers of the European Commission.
"If you are financially viable, you will be editorially independent, and if you are editorially independent you will have an impact on your society" said Patrice

"The vision is not to fight against another ideology, the vision is to maintain plurality," said Patrice.
Listen to the conversation here.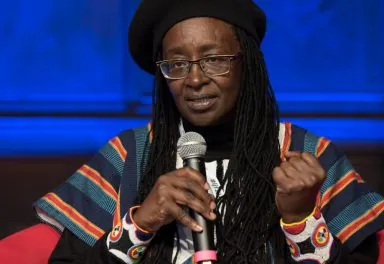 Catherine Gicheru: Making newsrooms inclusive and safe for all genders: a leadership conversation.
MDIF Board member Catherine Gicheru was part of a thought-provoking discussion centered on the crucial topic of gender inclusivity in newsrooms. The panel highlighted the persistent underrepresentation of women in leadership positions across major news markets and suggested solutions for making newsrooms safe and inclusive for all genders. Sharing their experiences of inclusive leadership alongside Catherine were Blathnaid Healy, former CNN Senior Director for EMEA, and Sisi Wei, Editor-in-Chief of The Markup.
"Women make up 51% percent of the world. It makes real business sense to have women in the newsroom. At the end of the day, you need to reach that 51%, and who else better to do that than women journalists?" said Catherine

Listen to the conversation here.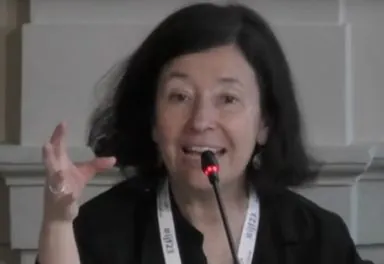 Maria Teresa Ronderos: Latin America: how to cover a region that is always in crisis, and What donors need to hear from the Global South.
The chair of MDIF's board Maria Teresa Ronderos spoke at the festival on two separate panels. The first discussion examined how journalists can cover Latin America despite the dangers and regular crises in the region. Maria Teresa was joined by Alejandra Sanchez Inzunza, Co-Founder and General Director of Dromomanos, Edoardo Suarez, Head of Editorial at Reuters Institute for the Study of Journalism, and Silvia Vinas, Executive Producer and Co-Host of El Hilo.
Listen to the conversation here.
The second panel she took part in examined what donors and media development groups need to better understand the complexities of the Global South, where independent, public-interest journalism is often underfunded. Maria Teresa was joined by Anya Schiffrin of the School of International and Public Affairs Columbia University, Miraj Chowdhury, Founder of Digitally Right, and Mia Malan, Editor-in-Chief of Bhekisisa Centre for Health Journalism.
"There are three things that journalists can do (to defend themselves). One is to make your environment as secure as you can… the second is collaboration… the third is to fight back," said Maria.

Listen to the conversation here.